We have had a couple of interesting cases over the last few months where our Vets have been able to use the endoscope to help diagnose and address issues.
The endoscope is a flexible camera/video /light source that we can use to help investigate respiratory tract in horses as they allow us to gain access visually to some of the nooks and cranny's that make up a horses upper and lower respiratory tract.
Resting endoscopy is when vets assess upper airways and the function of the larynx when the horse is standing still. It can be performed both pre and post exercise. Ideally the horse shouldn't be sedated (as this can negatively affect laryngeal function) and although a twitch is usually required for restraint this can be removed once the endoscope is in place if required to be.
We often ask horses to perform as athletes and oxygen transfer is obviously very important so any impairment to function can be detrimental to that athlete. This impairment can occur at different levels along the respiratory tract but horses breathe through their nostrils with air passing through the relative narrow passage of their laryngx down the trachea to a massive set of lungs.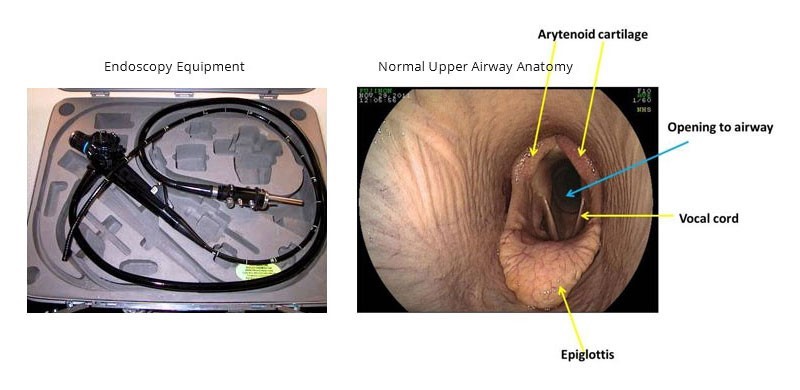 CASE 1
A 2yo thoroughbred colt in training started to cough and developed a white nasal discharge in Autumn.
Clinical exam was unremarkable with temperature normal and no significant findings on auscultation. 4-5 coughs were observed after exercise and white mucus was evident in one nostril but reported in both over the last week.
Blood was taken but haematology was inconclusive for a viral infection or allergy as a cause so a resting endoscopy pre and post exercise was undertaken.
Pre exercise showed normal nasal passages /laryngeal function and trachea but Post exercise showed Tracheal mucus grade 3   ie a thin continuous stream with several large accumulations of mucus.
With abnormal mucus accumulation potentially interfering with oxygen exchange and no clear cause from blood/clinical exam it was decided to do a "tracheal wash" where 50ml of sterile saline is flushed via endoscope into trachea and then aspirated back up. The saline is then analysed by lab to assess what cell types are present and therefore point to likely cause of excess mucus.
Commonly we are looking for white blood cells or eosinophils to help point to whether an infectious or allergic reaction is likely but the lab cytology showed bacteria and large amounts of 'sprouting 'fungal spores with fine filaments.
The fungi were theorised to be inhaled while grazing – (bear in mind this was late summer/early autumn when we see a lot of fungal toxins eg; ryegrass staggers /facial eczema affecting stock).
The fungi were identified as an airborne fungus.
The horse was prescribed mucolytics / boxed for periods during the day and changed grazing to areas with different climatic aspects
CASE 2
10-year gelding show jumper presented with a mucopurulent nasal discharge. Improved after antibiotics and anti-inflammatories but occasional blood trickle or discharge noticed on multiple occasions. Horse was competing well but with continued discharge after a second course of antibiotics further investigation was required and a scope was performed.
This was the image up the scope:
The golden/brown mass is the typical appearance of an ethmoid haematoma. This is a progressive and locally destructive mass in the paranasal sinuses that resembles a tumour but isn't cancerous in origin. The cause is unknown but it damages the tissue around it as it continues to grow.
Access for surgical removal is difficult so the horse was referred to a specialist practice in the Waikato for fortnightly intralesional injections with formalin performed by endoscopy.
CASE 3
A 3-year-old thoroughbred gelding racehorse noticed to be heavy breathing during fast work at exercise. Had raced as a 2-year-old and placed but now in 3-year-old year was making increased noise in breathing.
No findings on clinical exam.
Scope images below show a normal larynx on left with symmetrical opening of arytenoid cartilages and on right shows a left sided laryngeal hemiplegia with a neuropathy causing the left cartilage to sag into the midline and narrow the airway and reduce oxygen transfer at high speeds as well as creating a noise ,roar or whistle. The disease is usually progressive however deterioration is not very predictable.
This horse has been referred for surgery of a prosthetic laryngoplasty or tieback operation with sutures placed to pin back the cartilage to stabilize it and prevent collapsing into airway.